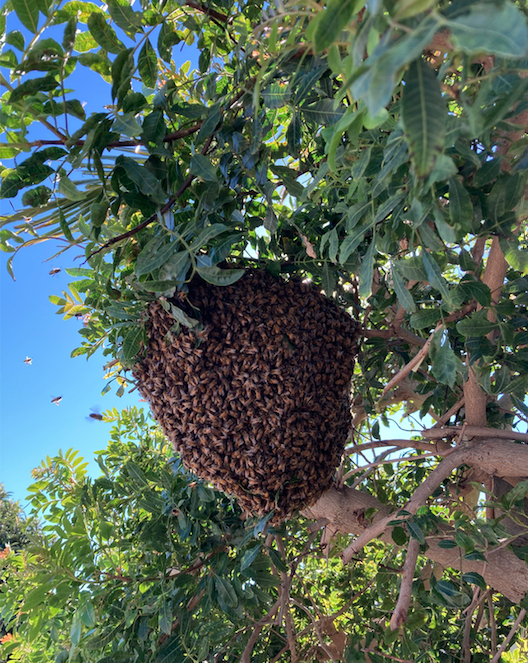 Finding a swarm or cluster of bees on your property can incite a little (or a lot) of fear, but don't panic or call an exterminator – call a beekeeper!
Swarming bees are generally not aggressive, they are concerned with finding a new home. A responsible beekeeper will try to save the hive and relocate it with minimal disturbance to the surrounding area. If a hive is found within a building, the beekeeper may need to open the walls to retrieve the bees, comb, and honey to ensure another hive doesn't take up residence. Not all beekeepers are licensed contractors and may decline a job depending on the severity of the hive.
Keep in mind beekeepers may charge for their services and prices vary depending on the job.
Robert Holliday – Swarms only
Phone: (580)920-8421
Email: bees.c2018@gmail.com
Areas of Service: Marshall, Love, Bryan, Johnson, Carter Counties
Daniel Huey- Swarms only
Phone: (817) 357-6628
Areas of Service: Leon
Michael Peters – Swarms only
Phone: (915) 929-8307
Areas of Service: Kingston
Shannon Williams – Swarms only (no trees)
Phone: (580) 263-0157
Areas of Service: Madill
Phillip Wadlow – Swarms only
Phone: (580) 504-7116
Areas of Service: Ardmore/Dickson
Gary Blackenbiller – Swarms Only
Phone: (405) 202-4568
Areas of Service: SW OKC
Donna Cox – Cut outs and Swarms
Phone: (580) 277-1608
Areas of Service: Leon
Ken Gee – Swarms only
Phone: (580) 319-8440
Areas of Service: Ardmore and within 40 miles of surrouding area
Mike Bradford – Cut Outs, Swarms, and Bee Proofing